07/31/11 20:54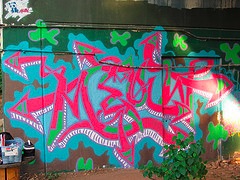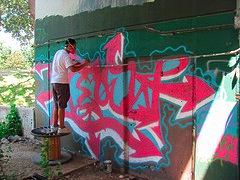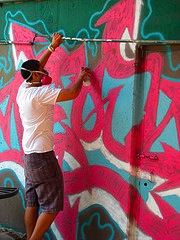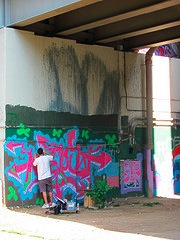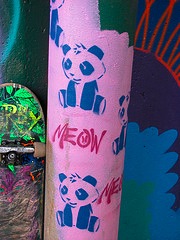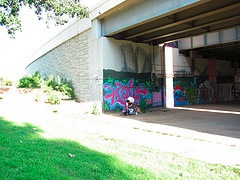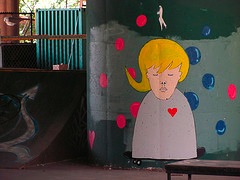 Dropped by Bridge Spot in SE DC this afternoon and caught MEOW hard at work getting a big piece up on the back wall. He told me he was visiting from Arizona and doing some work with Albus Cavus. They gave him some leftover paint to get his first big tag up. Usually he does large stencil pieces. Photos here show the development of the piece, and some bear stencils he put up when the main piece was finished. Also noted a new DECOY mural on one of the huge concrete pillars holding up the 395 overpass.
07/17/11 19:05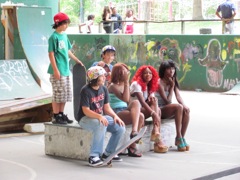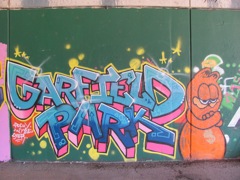 Incredible scene today at Bridge Spot, with a brand new
Albus Cavus
mural on one wall, and a
Tabi Bonney
video shoot, along with the business as usual of skating and ramp building. Otherwise known as Garfield Park in Capitol Hill, under the 295 overpass, Bridge Spot is a semi-sanctioned skate spot in SW DC, and a great spot for street art. On this visit, a brand new mural covered one wall, the result of an Albus Cavus workshop lead by Tim Rogers and Peter Krsko, with contributions from Decoy, Wyze and Ster. The angel holding the skull is also a Decoy piece. Lots of cool stuff painted by the kids in the workshop, along with big pieces by each of the leaders. Local hip hop artist Tabi Bonney must have liked the mural, because it was forming a key backdrop for the video he was filming for his new single "Hip Hop in Love," complete with a troop of dancers. They also seemed to like the skaters (including the crew I was with), because they got dragged into the photo shoot with some of the dancers/models. DC-based artist
Rosina Teri Memolo
was one of the photographers documenting the shoot, and sticker artists Jaws and Panic were lurking around, adding some slaps to the environs. Meanwhile, some older skaters, including
Stan Karbine
(
Stop Fakin
skate video, and Convoy team rider) and Manny Law interrupted their ramp construction efforts to coach some of the models in the fine art of skateboarding for the cameras.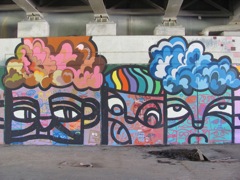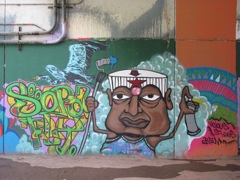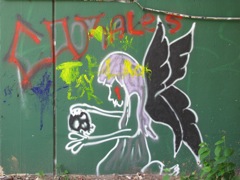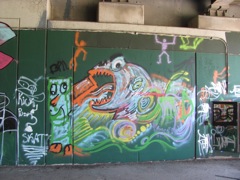 07/05/11 22:35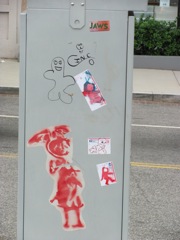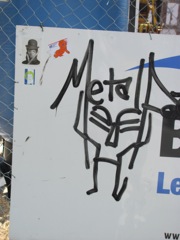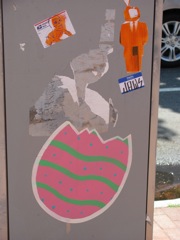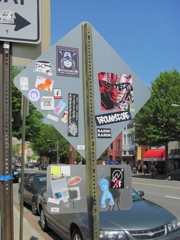 Street art in DC
Arturo, Diabetik, Jaws, Panic, etc representing on 14th Street, NW.