Kingdom of Sharks, FUN, and Soft Pieces at Bella Cafe & Bar in DC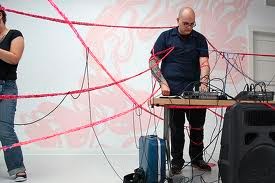 Saturday, July 23, 8:00 pm

Bella Cafe
900 Florida Ave., Washington, DC 20001
202-705-2020


Amazing electronic noise performer Soft Pieces (pictured) in rare appearance with two other noise acts!

KINGDOM OF SHARKS
Kingdom of Sharks (named after the ocean) is the moniker of Virginia resident, Christopher S. Feltner (b. 1978). Noise synths, effects pedals, voice, breath, plastic and metal objects, didgeridoo, microphone, guitar, samples, vibrator, and imagination are the current tools utilized to manipulate sound, and study its ability to shape emotion. Opinions vary, but the most common word used to describe KoS pieces is "dark."
FUN
"group comprised of 2 carbon based lifeforms, show glimpses into a literal, brutal & TRUE world. Sounds with heavy concepts behind them, mostly focused around the lack of "true fun" interpreted in various ways and/or various sources. Some maybe uncomfortably naked, bare, raw. Others smushed up in the crowded subway car, rush hour. Post Non-Music.
SOFT PIECES
Zach Mason (b. 1977) created the Soft Pieces project to join organic, improvisational performance with the versatility of modern tools, pairing spectacle with subtlety to create a memorable experience for each audience member. Soft Pieces has shared bills with performers as diverse as Blevin Blectum, Caustic Castle, Tim Hecker, Jandek, Matmos, and Reuben Radding. Zach currently lives in Maryland.