Frida Kahlo Photos at Artisphere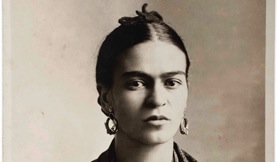 Known for her distinctive self-portraits that define her own brand of Surrealist painting, Frida Kahlo was also a lifelong resident of Arlington, Virginia's sister city of Coyoacán, a suburb of Mexico City. As a result of this civic relationship, Arlington's Artisphere scored the distinciton of being the only venue in the US to present an exhibit of Kahlo's personal photographs. Opening night is Thursday, February 23, and the show runs through March 25.

After being sealed for over 50 years, Kahlo's archive was opened in 2007, and 259 photographs were selected for public display. The images reflect Kahlo's tastes and interests, the experiences she shared with those close to her, and her complicated, but also thrilling, personal life. Viewers get an insider's look, not only through who was behind the camera, in front of the lens or the anonymous nature of some of the work but also through the annotated writing found on the back of many of the photographs.

From family pictures and snapshots taken with lovers to images that reveal relationships with Russian Marxist revolutionary Leon Trotsky and American photographers Edward Weston, Alfred Stieglitz, artist Georgia O'Keefe and actress Dolores del Rio, this exhibition provides a glimpse into Kahlo as never seen before.