freeek improv at CD Cellar Clarendon Sunday, 9/25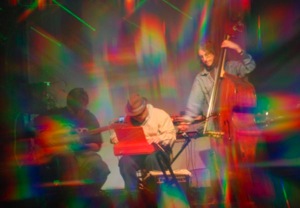 FREE SHOW--Sunday nite, Sept 25, at the Clarendon CD Cellar, three local free improv groups will perform: Anthony Pirog + Lost Civilizations + Mercury Fools the Alchemist!
6:00pm - 9:00pm
CD Cellar
2607 Wilson Blvd
Arlington, VA
Here's more band info:
Anthony Pirog
(Janel + Anthony, Skysaw, a million other projects and collaborations) A jazz guitarist by training (he graduated from Berklee School of Music), Anthony has proven his abilities as both a composer and an instrumentalist to excel in a variety of genres from various jazz ensembles to straight-forward rock bands. Improvisation and Experimentation pervade much of his work, but as a soloist, he focuses almost entirely on those aspects of his playing style, carefully layering and adjusting guitar loops with carefully drawn out guitar tones mixed with various electronic glitches from a massive array of effects pedals and then finding a melody within the cacophony over which the guitar rings through. Merch will be available including brand new solo tapes, the recently released debut LP from Skysaw (Jimmy Chamberlain's "progressive symphonic pop band), CDs and DVDs from Janel + Anthony (electric guitar and cello experimental compositions), and a 45rpm record from his indie rock trio/sextet.
Lost Civilizations
began as a project of Mike Sebastian (Tenor Sax, Saxello and Bass Clarinet) and T. A. Zook (BassCello and Misc. Instruments) playing purely improvised ambient free-jazz. More recently, they have been joined by Larry Gomez (Tabla, Cymbals, Misc. percussion) and Louie Rozier (Flute; Percussion). Performances also feature Aaron Martin (Alto Sax, Soprano Sax), Emre Kartari (Percussion) and other friends as guests. Past recordings available at archive.org.
Mercury Fools the Alchemist
-- "Chamber psychedelia" from trio of avant classical bass (Daniel Barbiero of Nine Strings, Mindbreath Trio, etc), ambient guitar (Rich Sheehe of Field Shaman), and a homemade "stone age synthesizer" dubbed the "springamajig" (Jeff Bagato, aka Tone Ghosting) produces chimerical cacaphony for mystical journeys. As with all other acts performing tonight, this is strictly free improv.